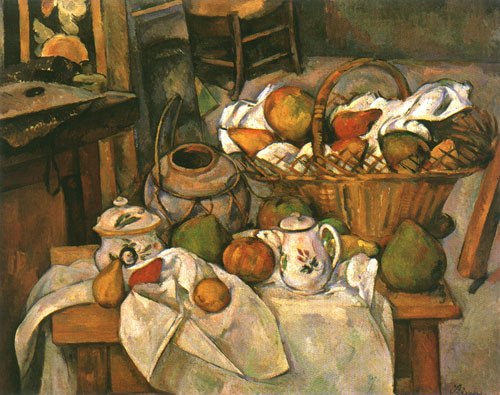 Which of these two paintings (
Komm, Herr Jesus, sei unser Gast
by Fritz von Uhde or
Still Life with Fruit Basket
by Paul Cézanne) is more religious? Well, according to Paul Tillich, who's example this is, it is the Cézanne Still life.
Tillich was not only one of the most creative theologians of the 20th century, he was also one of the very few (von Balthasar is another but very different example) major theologians that have dealt in depth with art.
So what does Tillich have against Uhde's painting of Jesus? Well, he says it lacks a "quality of sacredness". Tillich has this very interesting distinction between the content of a piece of culture (
Inhalt
) and it's true sense (
Gehalt
). The Uhde painting has a religious content, but, according to Tillich it is not religious because its form does not correspond with its
Gehalt
. In other words, it might be a religious image on the surface, but it is not religious in the proper sense because it is not painted in a way that communicates something about the Gound of Being.
The Cézanne painting on the other hand does not have a religious
Inhalt
, its only fruit, but, Tillich claims, there is something about the way the fruit is painted that opens up something in the observer, and this is a genuinely religious experience.
I know very little about art, but I still find this distinction very helpful, and I will at some point try to apply this and some other of Tillich's ideas about art to an art form more familiar to me: rock music.